Working With Us

Through the years, The Verus Team members have experienced and adapted to multiple market swings, built thousands of portfolios, and consulted on countless financial matters of all sizes. We are constantly reviewing financial portfolios and market information every day to build custom, detailed, and collaborative financial solutions tailored to our clients' needs. While each financial situation is unique, our investment and planning process is built from experience, time tested, and incredibly simple to understand.
If our methods sound too good to be true, let us prove it to you. It is our job to gain your trust, and we are confident you will experience The Verus Team difference in just one meeting. Each new client consultation begins with a phone call or face-to-face meeting with one of our advisors. Contact us today to learn how we may be able to improve your financial outlook – and so we can learn a little more about you. Our initial consultation is complimentary, and it could be your first step toward a new financial freedom.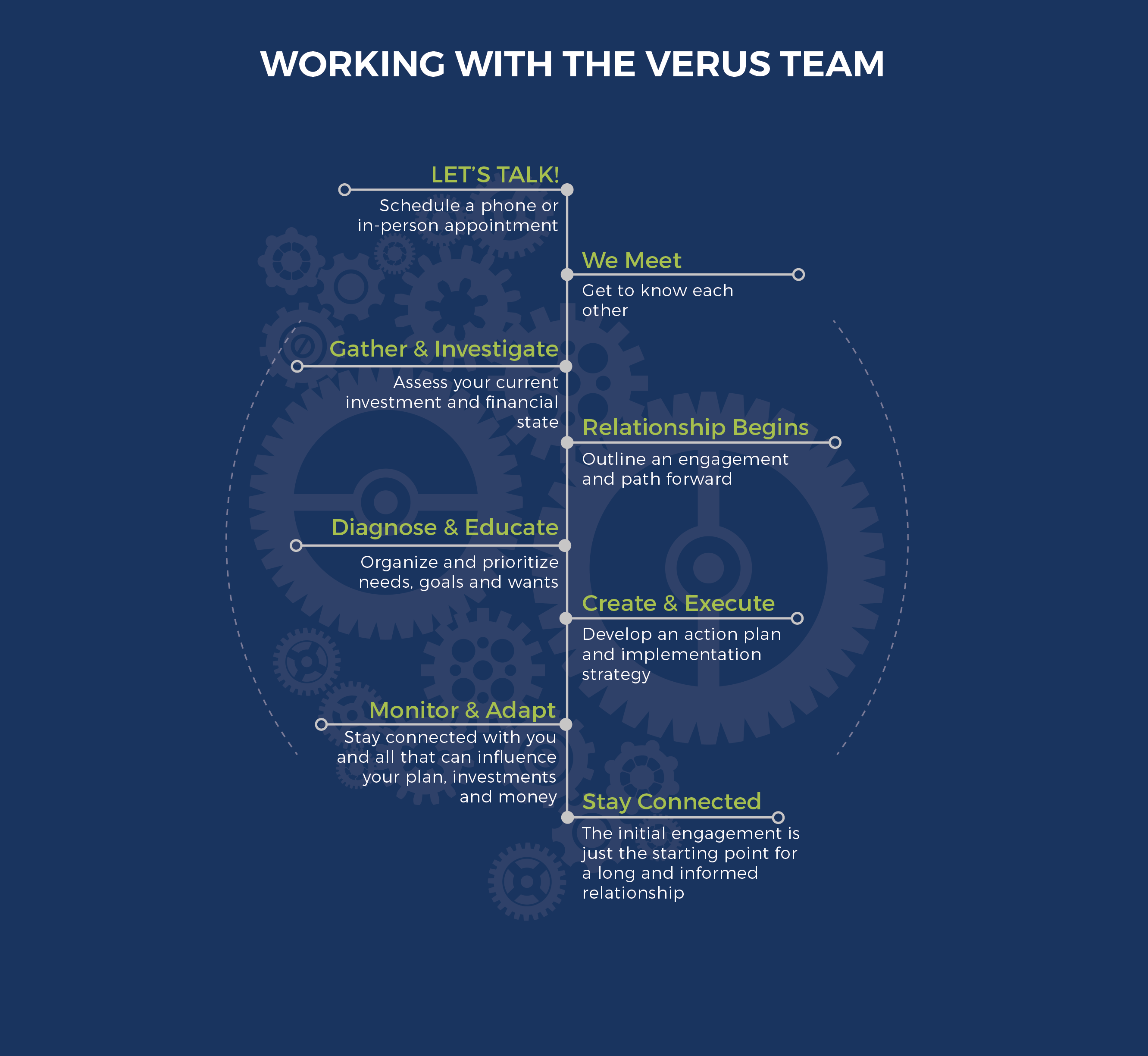 OFFERINGS
PORTFOLIO REVIEW
Current Asset Allocation

Individual Security Assessment

Tax Efficiency

Expenses

Income Projection

Risk Adjusted Performance
INVESTMENT MANAGEMENT
Create Portfolio Based on:

Investment Objective

Tolerance for Loss

Need for Income

Tax Bracket

Short Term Needs

Long-term Goals and Established Priorities

Client Involvement in the Process
COMPREHENSIVE FINANCIAL PLAN
Review All Assets (Real and Personal) and Liabilities

Provide Net Worth Statement

Review Estate Planning Documents

Provide Cash Flow Analysis

Portfolio Assessment

Provide a SWOT Analysis

Help Prioritize Goals and Objectives

Create Plan for Path Forward
ADVISORY SERVICES
A la carte Access to:

Address A Specific Need

Provide Financial Consulting for Limited Period of




Time or On an Ongoing Basis
FEE STRUCTURE
Fees May Be Charged as Follows:
% of Assets
Under
Management
Retainer-Flat fee
for Period of Time
or Project
Negotiable Based on Size, Scope, and Length of Engagement
For more information contact us at theverusteam@stewardpartners.com – 202-930-6000
Steward Partners Global Advisory, LLC and The Verus Team maintains a separate professional business with and our registered
professionals offer securities through, Raymond James Financial Services, Inc.
Member FINRA/SIPC